"Blessed are the pure in heart, for they shall see God. Matthew 5:8
This verse caught my eye on one of those little inspirational Facebook posts that people post from time to time.  It was a picture of a precious little girl playing in the ocean it had one of those sweet almost impressionist looks to it.  Something in that caught my attention it was like that little girl in the picture was not only pure in heart but also in that moment she was seeing God.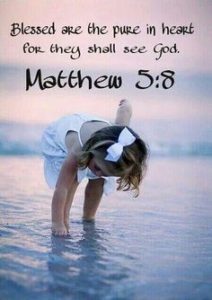 I've been meditating on that a lot in the last weeks and decided it was time to get back to this blog and put down my thoughts.
I have always thought that this verse means that those whose hearts are pure will see God in Heaven when they die.  But really how can that be the full meaning because none of our hearts are or ever will be pure.  It is only the saving grace of Jesus that causes our hearts to be pure and since we have all received that saving grace we will all see God.  The scripture indicates that even the wicked will eventually see God "They will look upon him who they have pierced… – John 19:37 "every knee shall bow…" Romans 14:11.  So why even put this verse in, what is so special about getting to see God off in the future if everyone is going to receive the same honor, why mention it? What is special about it?
It is special because it is one of the daily living experiences Jesus wants us to discover.   As with so many things Jesus taught, he wasn't speaking about off in the future he was speaking about the here and now.  He was talking about how we live our lives.
How many of us only see the bad or the negative in everything around us?  We get caught up in our day-to-day struggles, working; paying the bills, relationships, politics and everything in our world begins to take on the gloom of darkness and despair.  And if we allow it to it will soon defile us with its darkness and unbelief and instead of seeing God we only see the darkness.
I can remember my mother in situations where things could be taken with a double meaning quoting Titus 1:15, "To  the pure all things are pure."  But there is a second half of that verse that is the other side of the coin and it says "but to those who are defiled and unbelieving, nothing is pure, but both their mind and their conscience are defiled."
To the pure, all things are pure; but to those who are defiled and unbelieving, nothing is pure, but both their mind and their conscience are defiled. Titus 1:15

This world is full of evil and darkness, it always has been but that's not what our Lord want us to see.  He wants us to have our hearts in tune with His World, with His Kingdom and when we do, when our hearts are pure because they are in tune with Him then we see God.  We see God in everything.
We need to have our child like faith renewed, we need our hearts and minds purified and cleansed of the defilement of the world so that we can see God.  Do not conform to the pattern of this world, but be transformed by the renewing of your mind. Then you will be able to test and approve what God's will is—his good, pleasing and perfect will.  Romans 12:2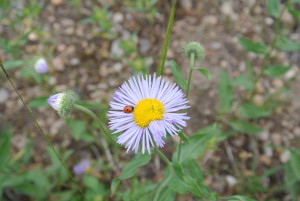 I believe that what Jesus is telling us in this verse is this, "IF our heart is pure you WILL be able to see God." We will see Him in the glorious beauty of the world he has created, we will see Him in the faces of our families and friends, and we will even see Him in the trials and tribulations we go through.
It is time to return to the simple faith that comes from trusting God with a heart that is pure, to have faith that everything will be OK, that He loves us and has our best interest in His Heart.
My prayer today for myself and all of you is from the psalms, "Create in me a clean heart, O God, And renew a steadfast spirit within me."  Psalm 51:10
Blessed are those whose heart is pure for then they will see God in all things.
Grace and Peace
Anita